Best Kitchen sink in India 2023 | How to choose Kitchen sink 10Tips
Step 1 :- First Thing You Must Know
Which is better- A Quartz Kitchen sink or a Stainless Steel Kitchen Sink ?
Quartz Kitchen sinks are constructed from a hybrid substance that includes resin binder and crushed quartz. They are non-porous and heat, scratch, and damage-proof. Quartz sinks can be moulded into various forms and sizes and come in a range of hues and designs. They are also simple to maintain and sanitize.
On the other hand, stainless steel sinks are constructed from a steel blend containing chromium and nickel. They are long-lasting, sanitary, and stain- and heat-resistant. Additionally, stainless steel basins are inexpensive, simple to maintain, and have a timeless design that complements a variety of kitchen designs.
Which sink is superior eventually depends on personal preference and the particular requirements of your kitchen. If you want a stain- and scratch-resistant sink with a distinctive hue or design, quartz sinks might be a better option. If you're looking for a sink that will last for many years, won't break the bank, and will be simple to clean and keep, stainless steel sinks might be the best choice for you.
Similarities between Quartz and Stainless Steel Kitchen Sink
Durability: Stainless steel and Quartz material are both renowned for their sturdiness. They can endure regular use and are stain, dent, and scratch-proof.
Maintenance: Both materials are simple to manage and keep tidy. With a damp towel and gentle detergent, you can sanitize them.
Endurance to extreme temperature: Quartz and stainless steel are both heatproof, making them perfect for use in kitchens where heated pots and pans are frequently put in the sink.
Hygienic: Both materials are non-porous, so they don't collect germs or other contaminants, making them hygienic. Because of this, they are a sanitary option for a kitchen sink.
Modern Aesthetic: Both stainless steel and quartz basins have a contemporary, streamlined appearance that can go with a variety of kitchen designs.
Available in a range of sizes: Both materials are ductile and malleable and can be moulded into different shapes and sizes. It is simple to find a sink that suits your requirements and the kitchen you have.
Step 2 :- Choose size of kitchen sink
The most important factor to consider when considering how to choose a kitchen sink is size. You will need to measure the space in your kitchen where you plan to install the sink and make sure you choose a model that will fit comfortably in that space. On an average, the size of a kitchen sink in India is usually about 22 inches long and 30 to 33 inches wide.
Select a compact sink to save space if you have a little kitchen. Conversely, choose a larger sink to give you more room to work if you have a large kitchen.
When deciding the size of your kitchen sink, there are a few things to remember:
Think about how you will use the sink. If you do a lot of cooking, you may need a larger sink to accommodate pots and pans.
Consider the size of your kitchen. A larger kitchen may be able to accommodate a bigger sink, while a smaller kitchen may need a smaller sink to save space.
Think about your personal preferences.
Step :- Choose Gauge
The thickness of the steel is important because it affects the durability and strength of your sink.
Thinner sinks with a higher gauge may be more susceptible to dents and scratches, while thicker gauges with lower numbers will be more durable and resistant to damage.
The Thickness of the Material
The higher the gauge number, the thinner the stainless steel. Generally, a thicker gauge (between 16 and 18) provides better durability and resistance to scratches, dents, and noise. This is the standard gauge sink for most home use.
Thicker gauge stainless steel sinks usually have better sound-deadening properties, reducing noise from running water and dishwashing. Commercial sinks use thicker gauge, usually 14-16, where a quiet, more durable sink is needed.
Different types of kitchen sinks available in India, classified according to –
Type of bowl
Type of installation
Types of Kitchen Sink Designs
1. Based on the Type of Bowl
a. Single-Bowl Sink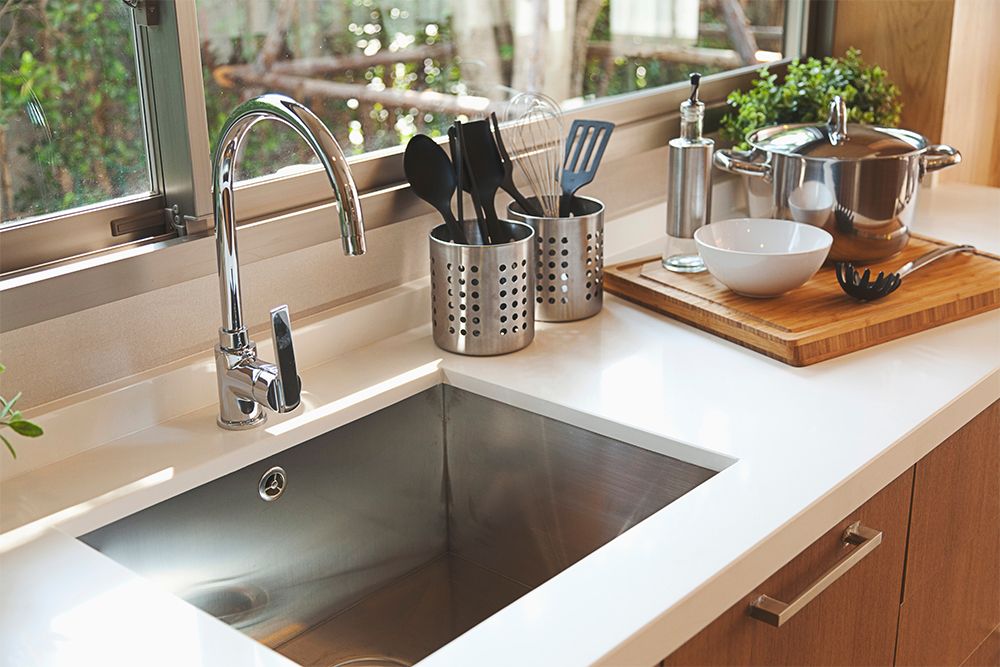 As the name suggests, a single-bowl sink is fit within the countertop. It is a great choice for small space kitchen sink design and is easy to clean. Single-bowl sinks can lend a streamlined look to your kitchen.
b. Double-Bowl Kitchen Sink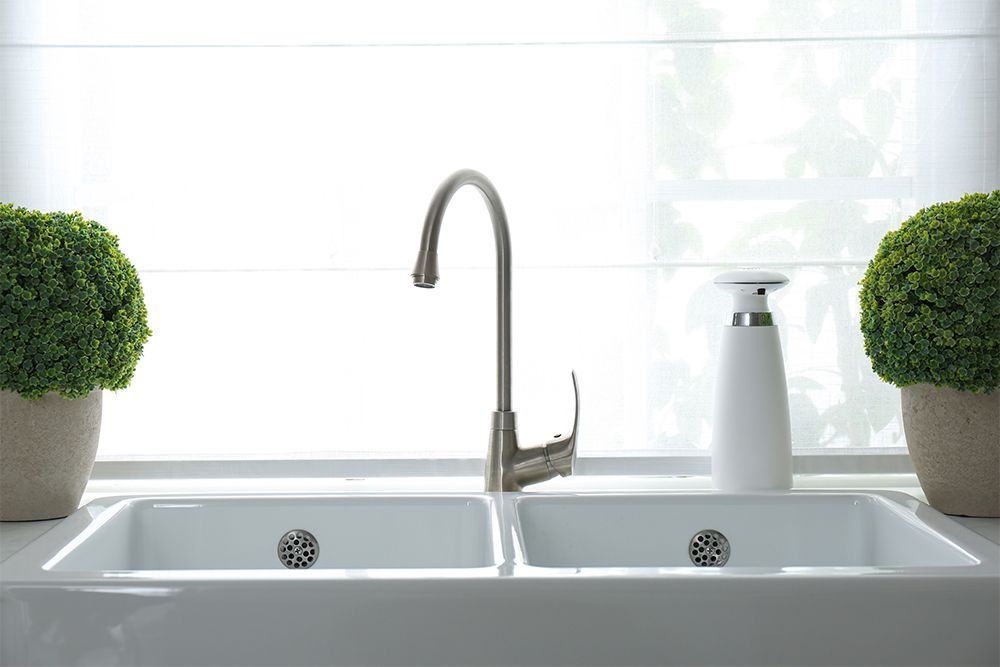 The double-bowl kitchen sink design is, as the name suggests, a large-sized single bowl partitioned into two. Most homeowners swear by the double sink, for it makes multitasking easy. This is also a great choice when there are two cooks in the kitchen.
c. Kitchen Sink With Drainboard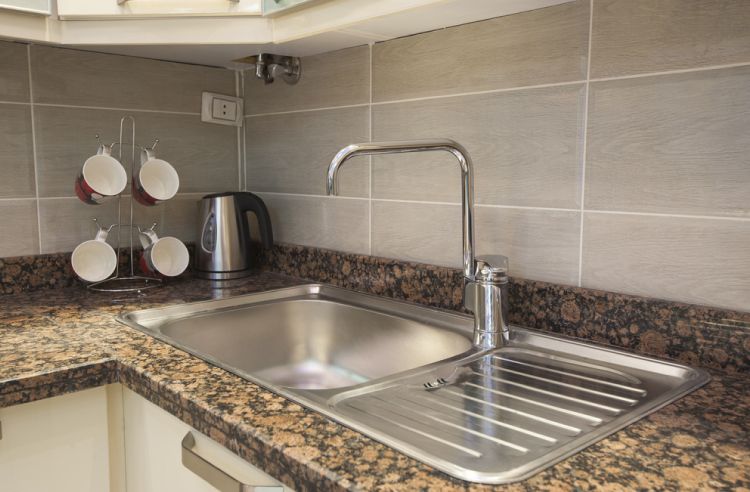 These kitchen sink models are popular in Indian kitchens since they offer space to dry utensils as well as to drain washed vegetables. Since it comes with a drainboard in varied shapes and sizes, the sink with drainboard design option often tends to occupy more space on the countertop.
2. Based on the Type of Installation
a. Top-Mount Kitchen Sink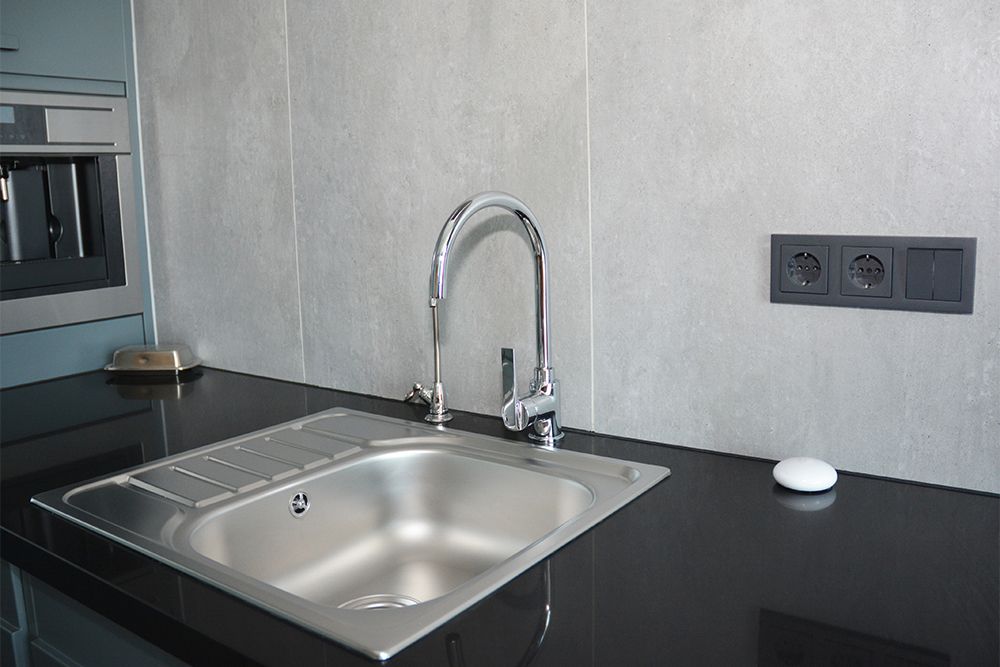 This is also known as the drop-in or self-rimming sink, seen regularly in Indian kitchens. A top-mount sink, to put it simply, has a ridge that fits over the countertop. It has a sink rim or lip which rests on top of the countertop. These kinds of sinks are easier to install and are relatively cheap, making this a good kitchen sink idea.
b. Undermount Kitchen Sink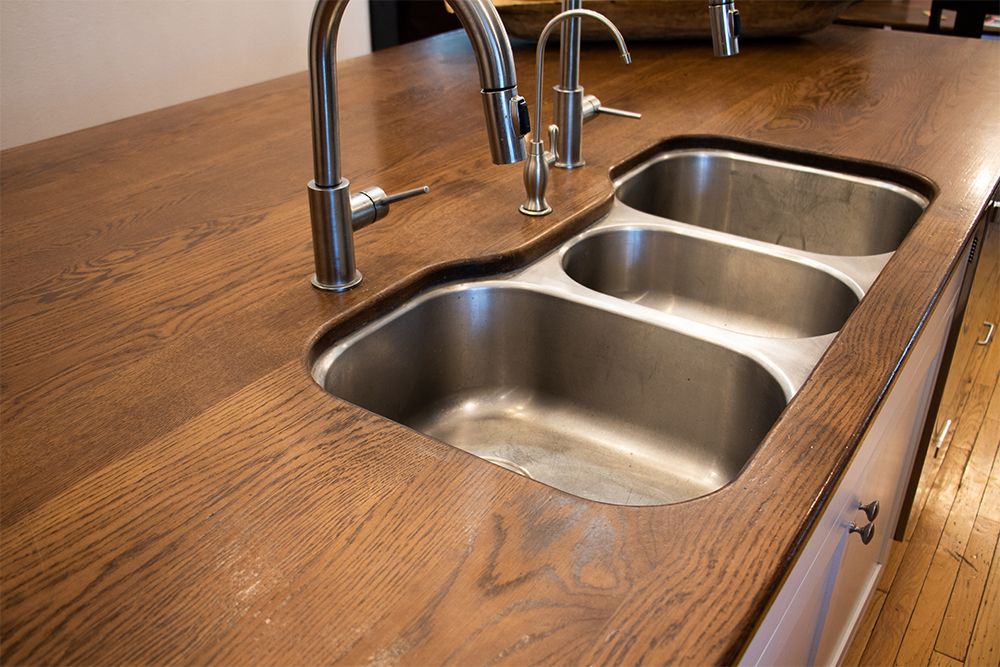 An undermount sink is recessed below the countertop, so it effectively hangs underneath the counter. Since the lip or rim of the sink does not sit on top of the counter, it creates a meticulous flow from the countertop into the sink. The undermount sink is also easy to clean because there are no crevices where dirt or grime can normally get accumulated.
c. Integrated Kitchen Sink Ideas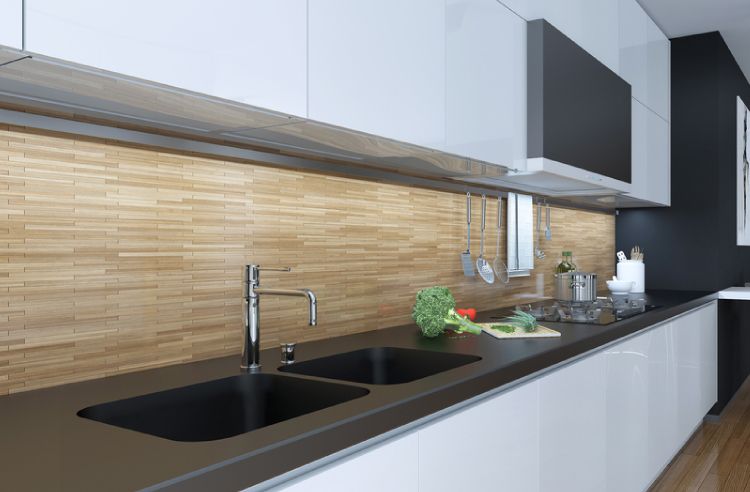 An integrated sink is for those who desire a sink that seamlessly blends in. It is made from the same material as the countertop, such as stone, metal, solid surface or quartz. As you can see in the image above, an integrated double kitchen sink is perfect for a contemporary setting since it has a clean and elegant design.
Step 3 :- Best Size of sink for your Kitchen
There are several things you need to consider while choosing your kitchen sink size. In general, the standard sink size is 22" x 30". While single bowl sinks can have a width upto 36 inches, double bowl sinks can go upto 48 inches.
The other thing that you need to consider is the depth of the sink. Sinks can have a depth between 6 and 12 inches. If you're someone who usually piles up dishes in the sink, choose a sink with a greater depth.
Step 4: Top Brand of Kitchen sink
Ruhe
Lipka
Jindal
Nirali
Hindware
Alton
Futura
Neelkanth
Cera
Step 5 :- Price range of Sinks
| | |
| --- | --- |
| Best Kitchen Sinks In India | Price |
|  Ruhe® Handmade Single Bowl | Rs 4,046 |
|  VACLIX Handmade Kitchen Sink | Rs 4,199 |
|  CROCODILE Stainless Steel Sink | Rs 3,099 |
|  ALTON Single Bowl Kitchen Sink | Rs 2,752 |
|  ATC Jindal Kitchen Sink | Rs 1,695 |
|  ARQUIN Stainless Steel Kitchen Sink | Rs 2,840 |
|  ZINZER Kitchen Sink | Rs 4,650 |